Massage Therapy in Roswell
Massage therapy has been proven beneficial for many chronic conditions, including neck and back pain, arthritis, bursitis, fatigue, high blood pressure, diabetes, immunity suppression, infertility, depression, (and more), as well as for treatment for injuries resulting from trauma. Therapeutic massage  is effective for a variety of problems, offering relief from muscle soreness caused by over-exertion such as exercise, relaxation for stress reduction, and rehabilitation after injury. As many people will attest, massage also helps relieve the stress and tension of everyday living that can lead to illness and disease.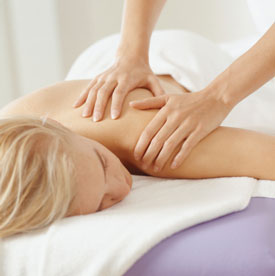 Massage is one of today's fastest growing areas of health care. A wide variety of ancient and modern massage techniques are recognized for their therapeutic benefits. Massage offers enhancement to both physical and psychological health and it compliments chiropractic care. Health care experts agree, there truly is a mind/body connection. Massage therapy compliments chiropractic care and encourages healing while it reduces pain, spasm, and fibrosis. Many post-accident conditions respond and improve more quickly when therapeutic massage in conjunction with the specific, chiropractic adjustment.  There is a type of massage that's just right for everyone!
Our trained, licensed and certified massage therapists are available during all patient hours. Mini-massages (15 minutes), as well as 30, 45, 60, and 80 minute sessions are available (by appointment only). Although the majority of our massage patients are also chiropractic patients, massage only clients are accepted. For that "special someone" or for holiday gifts and special occasions, Massage Gift Certificates can be purchased at Care More Chiropractic.
Call our Roswell chiropractic office today!
---
Massage in Roswell | Care More Chiropractic | (770) 640-6600