Contact Care More Chiropractic
We'd love to hear from you! Call us (770) 640-6600
Covid-19 Update
As an essential business, our practice is still open. We've limited our office hours to try and help reduce the spread of the virus, and we are doing everything we can to make sure we are following protocols for ensuring a safe environment.
Our current operating hours are by appointment only:
Monday: 9 am – 1 pm and 3 pm – 6pm
Tuesday: 3pm – 6 pm
Wednesday: 9 am – 1 pm and 3 pm – 6pm
Friday: 9 am – 1 pm and 3 pm – 6pm
Rest assured, we're taking additional steps to ensure our practice remains clean and safe. If you do have flu-like symptoms or a fever, please let us know before you arrive so that we may reschedule your visit.
Call us to schedule your appointment!

APPOINTMENTS
Existing Patients
Existing patients, please use the button below to schedule your next appointment.
EXISTING PATIENT SCHEDULER »

New Patients
New Patients, please use the button below to schedule your first appointment
NEW PATIENT APPOINTMENT »

EMAIL US
---
CONTACT
Care More Chiropractic 1580 Holcomb Bridge Rd, Suite #20 Roswell, GA 30076
T: (770) 640-6600
Office Hours
M
9:00 – 1:00
3:00 – 6:00
W
9:00 – 1:00
3:00 – 6:00
F
9:00 – 1:00
3:00 – 6:00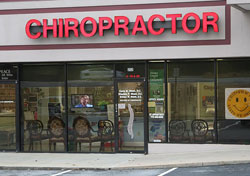 FIND US